The Bazaar is where you can browse cards put up for trade by other players, agree to trade for them if you can meet the requested price, and put your own cards up for trade.
The seller selects the price of the card put up for trade. The buyer must own all of the cards in the requested price list to be able to complete the trade. You will not be able to create a trade listing, if you do not own a Bazaar ticket. In order to select a card as a price, the seller must have owned that card at some point (the card must be visible in their collection).
Players may have a maximum of 3 open trade listings at any one time.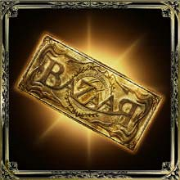 Bazaar tickets
Edit
Bazaar tickets are earned by logging in and by posting via the SNS page (posting on Facebook/Twitter/Gree). Both methods yield 1 ticket/day.
1 Bazaar ticket is removed from inventory when a trade listing is created.
If your listing doesn't sell, or it is canceled, a Bazaar ticket will be returned to your inventory.
Buying on the Bazaar does not cost Bazaar tickets.
Time Limit
Edit
Each trade listing will be exhibited in the Bazaar for up to 48 hours.
After a listing expires it will automatically be removed and a Bazaar ticket returned to your inventory.
Level requirements
Edit
At level 10 you may sell any cards you own.
The higher your level, the more cards you will be able to buy:
Level 10: Common and uncommon cards
Level 20: Rare cards
Level 30: Super Rare cards
Level 50: Mega Rare cards
Level 60: Ultra Rare cards
Untradable cards
Edit
The following cards are not tradable:
Certain later Event Treasure rewards:
All Storyline Quest Rewards (Dragon Treasure Set rewards):
All Super-Rare Card Chance rewards:
Spirit's Dragon of Blessing (Chaos)
Spirit's Dragon of Blessing (Genesis)
Spirit's Dragon of Blessing (Justice)
King's Dragon of Blessing (Chaos)
King's Dragon of Blessing (Genesis)
King's Dragon of Blessing (Justice)
Heaven's Dragon of Blessing (Chaos)
Heaven's Dragon of Blessing (Genesis)
Heaven's Dragon of Blessing (Justice)
Santa Dragon (Chaos)
Santa Dragon (Genesis)
Santa Dragon (Justice)
Dragon of Thanksgivings (Chaos)
Dragon of Thanksgivings (Genesis)
Dragon of Thanksgivings (Justice)