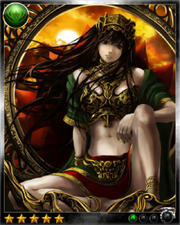 Type: Charm


Attack: 2960
Defense: 3240
Cost: 14
Ability: Hateful Justice
Once, there was music -- the first song ever sung, back when the world was barren and amorphous. The song brought about love, and war, and everything else we live among.
Final Evolution: Shadow of the Creator
Attack:
Defense:
Cost: 14
Ability: Hateful Justice
Released: 12/25/2012
Brahman was added with Tainted Kingdom of the Undead as a prize for ranking in the top 1000.
Brahman is untradable.