Enhancement is the process of using Unlike cards and Dorri to increase the level (and power) of your Base Card.  All cards other than the Base Card are destroyed in this process.  Using rare or enhanced cards to level up your Base Card does not make it more powerful, but will grant more experience than using common cards.
The Enhancement information of a card can be found as seen inside the red rectangle below.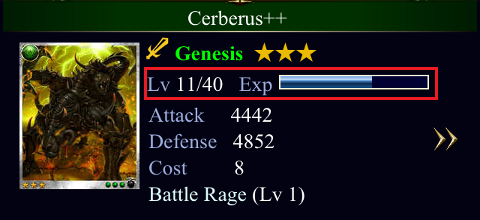 A cards Maximum Enhancement level is determined by its rarity.
| RARITY | MAX LEVEL |
| --- | --- |
| | 20 |
| | 30 |
| | 40 |
| | 50 |
| | 60 |
| | 70 |