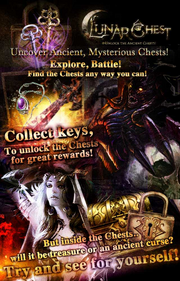 Lunar Chest is the second Guild vs. Guild Event. You quest for ancient, mysterious chests containing random items, and open them for Unlock Points for you and your guild.You may also steal chests from other players by beating them in battle.
While questing you may come across Guardians, event bosses that can drop Gilded Chests containing more valuable items. During the event you will also be able to collect keys used to open the chests. Inside the chests you may find treasures that you can complete into sets for a new Rare (



) and Super Rare (




) card.

Event details:
Period: 1/18/2013 - 1/27/2013 (21.00 EST).

Features:
Guardian - Event boss that you fight for the chance of a Gilded Chest.
Lucky Streak - increases the amount of Unlock Points you get for opening a chest.

Silver key - Has a 30% chance of opening a Metal Chest.

Gold Key - Has a 100% chance of opening a Metal Chest. Used to open Gilded Chests.

Metal Chest - Found in quests. More common in the Event Quests. Contains a random item.

Gilded Chest - Guardian drop. Use 3 Gold Keys, or have 5 guild members use any key each.

New cards introduced:

Individual Ranking rewards by Unlock Points
| | Top Rank | | | Premium Key | Stamina Potion | Power Potion | Dorri |
| --- | --- | --- | --- | --- | --- | --- | --- |
| A | 50 | 4 | 4 | 3 | 30 | 30 | 300000 |
| B | 100 | 2 | 2 | 2 | 10 | 10 | 100000 |
| C | 200 | 1 | 1 | 1 | 5 | 5 | 50000 |
| D | 500 | | 1 | 1 | 3 | 3 | 30000 |
| E | 1000 | | 1 | | 1 | 1 | 20000 |
| F | 3000 | | | | 1 NB | 1 NB | 20000 |
| G | 10000 | | | | | | 10000 |
| H | 20000 | | | | | | 50000 |

Guild Ranking rewards by Unlock Points:
| | Top Rank | | | 5-Card Album | Stamina Potion | Power Potion | Dorri | Friendship Points |
| --- | --- | --- | --- | --- | --- | --- | --- | --- |
| A | 5 | 2 | 2 | 1 | 5 NB | 5 NB | 500000 | 10000 |
| B | 10 | 1 | 1 | 3 | 3 NB | 2 NB | 200000 | 5000 |
| C | 30 | | 1 | 2 | 2 NB | 1 NB | 100000 | 3000 |
| D | 100 | | | 1 | 1 NB | 1 NB | 30000 | 2000 |
| E | 300 | | | 1 | | | 20000 | 1000 |
| F | 1000 | | | | | | 10000 | 1000 |
NB = Non Bazaar version